Céad míle fáilte go Tourmakeady
Hill Walking in Tourmakeady:
Tourmakeady is situated at the base of the Partry Mountains and along the western shore of Lough Mask. The scenery is outstanding and it is the perfect for an evening stroll, or for the more energetic hillwalker. The local tourism group organised the mapping of some walks in the area from Finney to Tourmakeady. The maps are drawn up by Joe McDermott.. Walking in the hills inevitably means walking over bog or peat. Bog is the Gaelic word meaning soft and every hill walker knows exactly what this means.
(There are copies of the maps on the following pages but original copies may be obtained from the local Tourism Office. While every care has been taken in compiling these maps, Tourmakeady Tourism Group, it's servants or agents, are not liable for any loss, injury damage or inconvenience sustained or caused as a result of using these guides.)
Walk Number 1 - The Tourmakeady walk: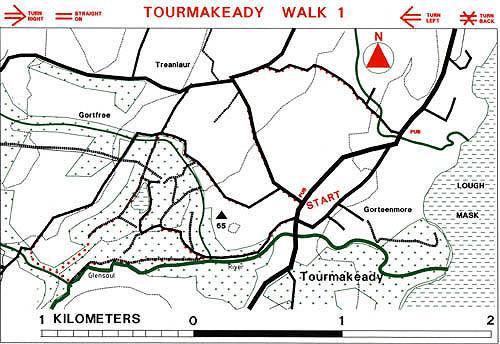 There are four walk options on this map. The longest walk is 8 kms and the shortest 5kms. There is no great climb involved and 2 hours will take one round the longest walk. The shortest walk is a track / path walk through Tourmakeady Wood passing a spectacular waterfall. Extensions to this walk take the walker on to minor roads, all returning to Tourmakeady village. Any combination of the various walks may be used to create a suitable stroll in the woods.