Céad míle fáilte go Tourmakeady
Hill Walking in Tourmakeady:
Tourmakeady is situated at the base of the Partry Mountains and along the western shore of Lough Mask. The scenery is outstanding and it is the perfect for an evening stroll, or for the more energetic hillwalker. The local tourism group organised the mapping of some walks in the area from Finney to Tourmakeady. The maps are drawn up by Joe McDermott.. Walking in the hills inevitably means walking over bog or peat. Bog is the Gaelic word meaning soft and every hill walker knows exactly what this means.
(There are copies of the maps on the following pages but original copies may be obtained from the local Tourism Office. While every care has been taken in compiling these maps, Tourmakeady Tourism Group, it's servants or agents, are not liable for any loss, injury damage or inconvenience sustained or caused as a result of using these guides.)
Walk Number 7- The Maumtrasna Walk: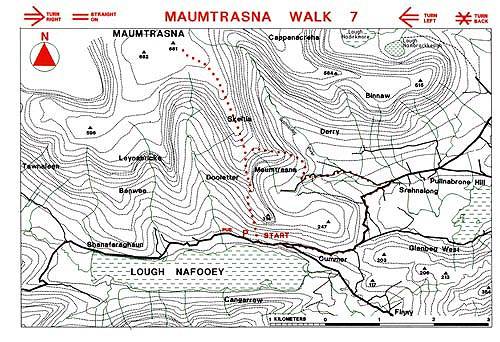 From the car park the walker should seek out the gate that leads onto the mountain side. A long steep climb leads to the ridge. Skeltia is indeterminately marked on the flat plateau and care should be exercised when descending the Maumtrasna Ridge. Once in the valley the bog roads are easy to follow using map and waymarkers. The intrepid climber who wants a challenge can proceed to Maumtrasna Mountain, again hardly distinguishable from it's plateau like surrounds. From here an arduous and very challenging descent may be made into the valley of the Srahnalong River and back to the road system. This part of the walk is only for the experienced and well attired walker and should not be attempted without some knowledge of scrambling techniques.